Container House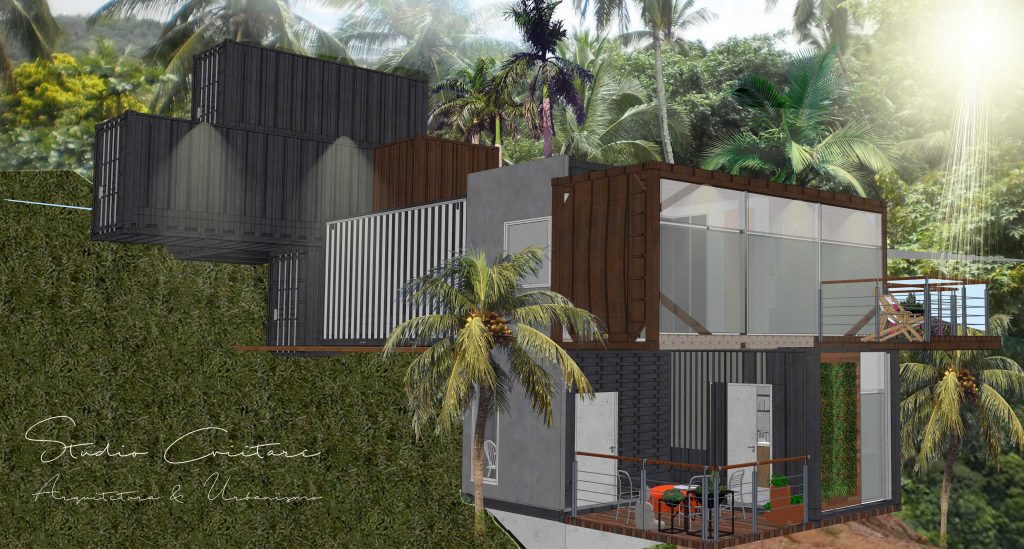 (PT) LOCALIZAÇÃO: IlhaBela, Litoral Norte,São Paulo. 
(EN) LOCATION: IlhaBela, North Coast, São Paulo. 
(IT) POSIZIONE: IlhaBela, Costa settentrionale, São Paulo.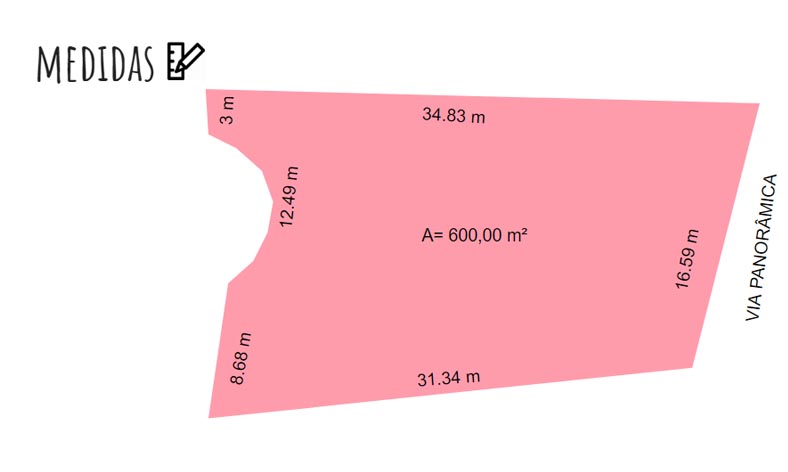 (PT)O terreno onde será implantada a Casa Container tem 600 m² e uma vista panorâmica incrível para o mar e para a serra da cidade de São Sebastião. No Porto de IlhaBela podemos ver embarcações como as famosas Velas naúticas.
 (EN)The site area where the Container House will be built has 600 m² and an incredible panoramic view to the sea. From  the site we can see the hills of the city of São Sebastião. In the Port of IlhaBela we can see boats like the famous nautical sails.
(IT) Il terreno in cui verrà costruito la Casa Container  ha 600 m² e un'incredibile vista panoramica sul mare e sulle colline della città di São Sebastião. Nel porto di IlhaBela possiamo vedere barche come le famose vele nautiche.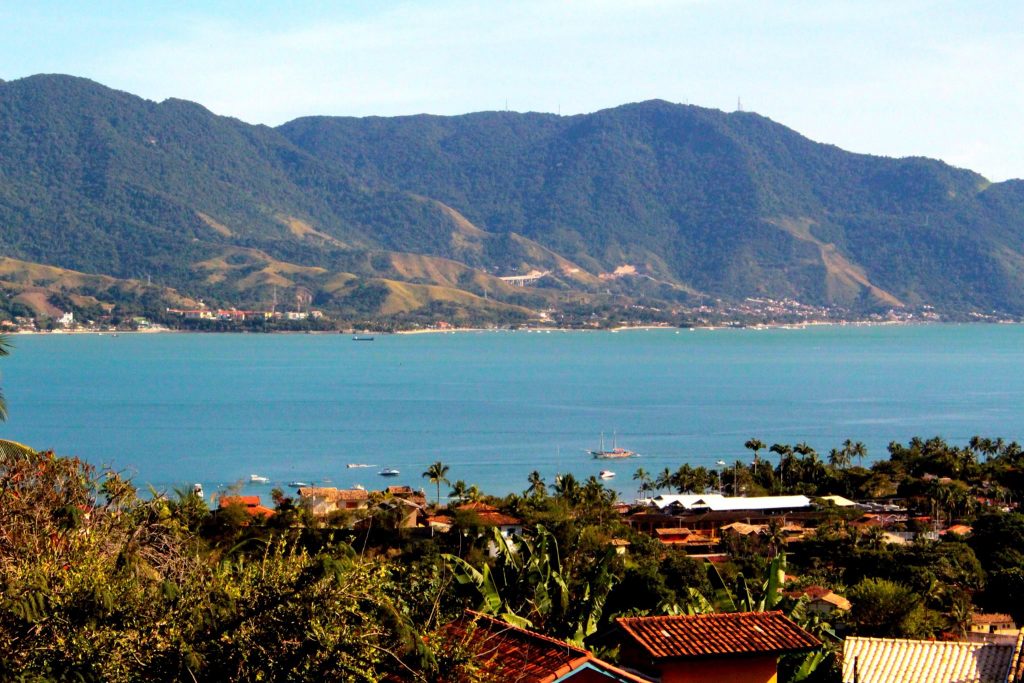 (PT) Serra de São Sebastião. Há algumas ilhas espalhadas pelo litoral da cidade de São Sebastião, todas resultantes de atividades vulcânicas.Fotografia por: Keziah Virgínia R. B. de Magalhães
(EN) Serra de São Sebastião. There are some islands scattered along the coastline of the city of São Sebastião, all resulting from volcanic activities.Photography by: Keziah Virginia R. B. de Magalhães.
(IT) Serra de São Sebastião. Ci sono alcune isole sparse lungo la costa della città di São Sebastião, tutte derivanti da attività vulcaniche. Fotografia di: Keziah Virginia R. B. de Magalhães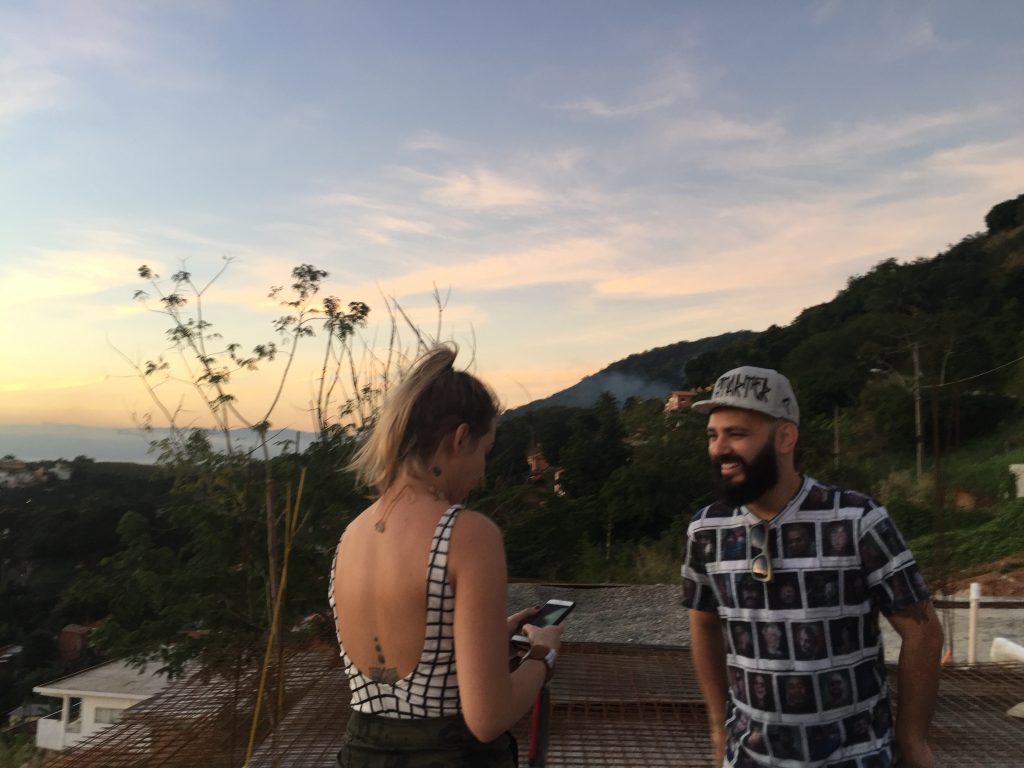 (PT) Os proprietários nos mostram o terreno e mostram suas necessidades para o projeto da Casa Container. Fotografia: Gabriela Virgínia de Magalhães
(EN) The owners show us the terrain and show their needs for the Casa Container project. Photography: Gabriela Virgínia de Magalhães
(IT) I proprietari ci mostrano il terreno e mostrano i loro bisogni per il progetto Casa Container. Fotografia: Gabriela Virgínia de Magalhães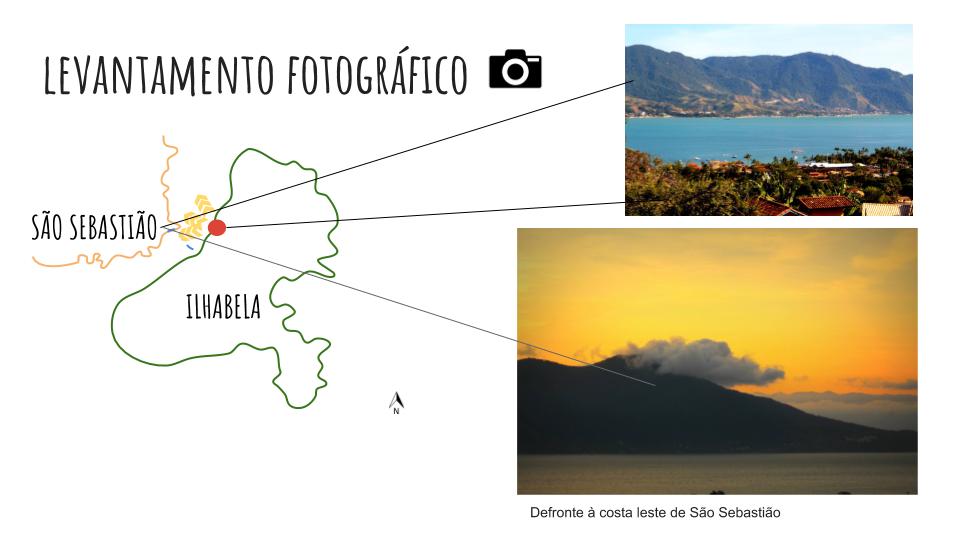 CRIAÇÃO
(EN) CREATION
(IT) CREAZIONE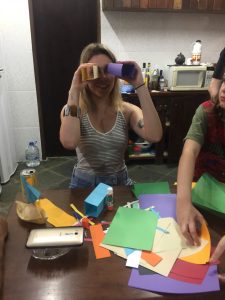 (PT) Para a criação desse  projeto, utilizamos um método de interação com o cliente. Nesse caso, os clientes brincaram com os papeis coloridos fazendo formas em objetos tridimensionais para que pudessemos visualizar com clareza as suas preferências e intensões projetuais. Também utilizamos esse processo para decidir sobre o design de interiores da casa, que era um desafio no que se ata em construção com conrtainers.
(EN) To create the project, we use a method of customer interaction.In this case, customers played with colored papers making shapes on three-dimensional objects so that we could clearly visualize their design preferences and intentions. We also used this process to decide on the interior design of the house, which was a challenge in building ties with conrtainers.
(IT) Per creare questo progetto, utilizziamo un metodo di interazione con il cliente. In questo caso, i clienti hanno giocato con carte colorate creando forme su oggetti tridimensionali in modo da poter visualizzare chiaramente le loro preferenze e intenzioni di progettazione. Abbiamo anche utilizzato questo processo per decidere l'interior design della casa, che è stata una sfida nel costruire legami con i conrtainer.
(PT) Criando um ambiente sustentável com relação ao entorno.
(EN) Creating a sustainable environment with respect to the environment.
(IT) Creare un ambiente sostenibile nel rispetto dell'ambiente.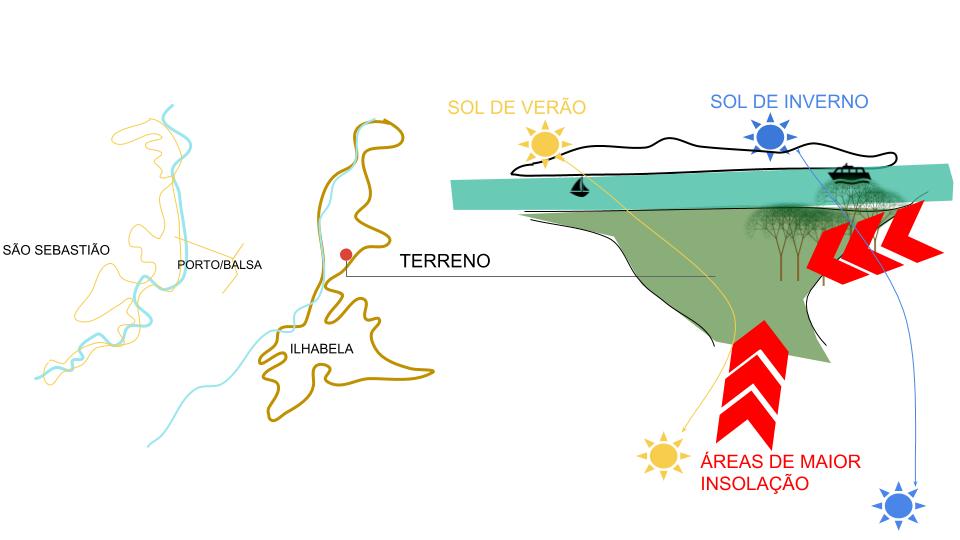 (EN) The sunshine on IlhaBela mainly in summer would be a problem for a metal building. Our solution was the placement of stacked containers creating shadows in the lower containers. On the facades where the sunshine would be greatest, we created wooden bricks for both sun protection and the privacy of the residents and guests.
(IT) Il sole su IlhaBela soprattutto in estate sarebbe un problema per un edificio di metallo. La nostra soluzione era il posizionamento di contenitori impilati creando ombre nei contenitori inferiori. Sulle facciate dove il sole sarebbe più grande, abbiamo creato mattoni di legno per la protezione solare e la privacy dei residenti e degli ospiti.
(PT) A Terra
(EN) The Land
(IT) La Terra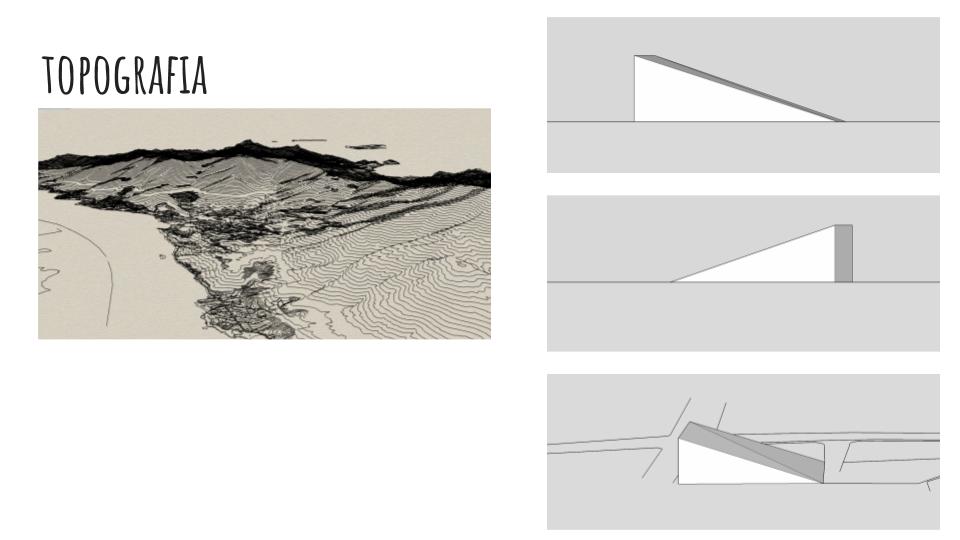 (PT) A topografia do terreno acidentado e inclinado nos possibilitou fazer terraços com balanços sem fazer grandes movimentações de terra.
(EN) The topography of the rugged and sloping terrain allowed us to make terraces with swings without making great earth movements.
(IT) La topografia del terreno accidentato e in pendenza ci ha permesso di realizzare terrazze con altalene senza fare grandi movimenti terrestri.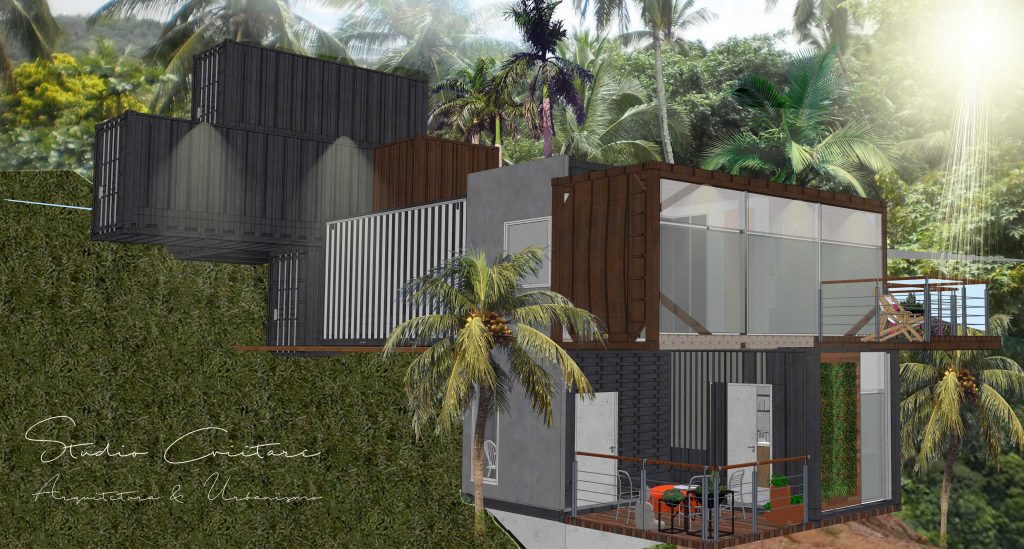 (PT) A imagem mostra a fachada de vidro que aponta para o mar e a colocação dos containers no terreno inclinado.
(EN) The image shows the glass facade pointing to the sea and the placement of the containers on the sloping ground.
(IT) L'immagine mostra la facciata in vetro che indica il mare e il posizionamento dei contenitori sul terreno in pendenza.
Ground Floor Plan: Creation of an integrated space with Kitchen,Pantry, Living Room and Balcony.
Piano Livello Terra:  Creazione di uno spazio integrato con Cucina, dispensa, Soggiorno e Balcone.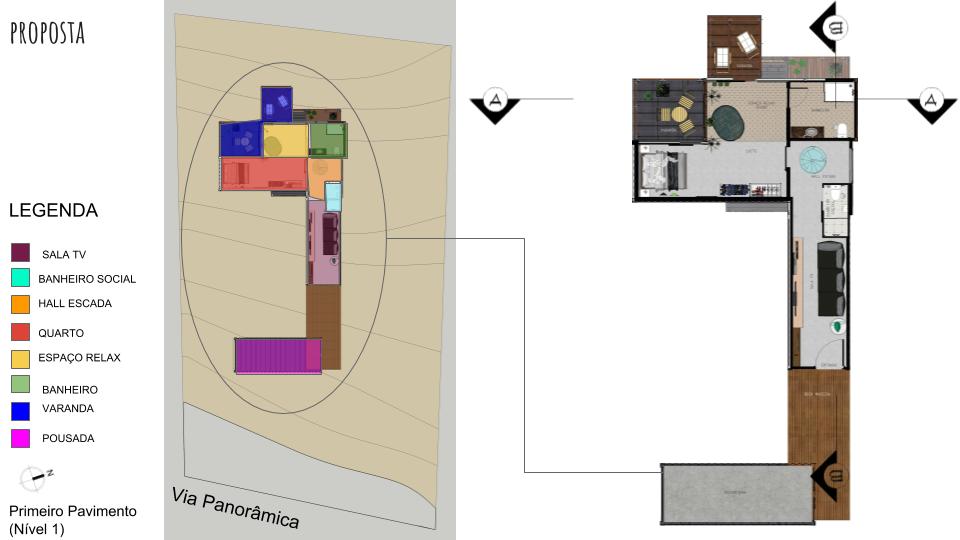 (PT) Planta Baixa Primeiro Pavimento Criação do espaço de convivência: -Sala -Hall de Entrada -Lavabo Criação da área privativa: – Suíte com área relaxante -Varanda privativa -Varanda com vistas para o mar e banho de sol – Entrada para a Pousada
(EN) First Floor Plan: Creation of living space: – Hall Entrance -Lavabo Creation of the private area: – Suite with relaxing area -Varanda private -Varanda with views of the sea and sunbathing – Entrance to the Inn