Register February 25, 2019 | Submit February 25, 2019 | Free Architecture Competitions
International Design Competition for Qianhai Public Spaces
BRIEF
With the implementation of the "Belt and Road" initiative, the Guangdong-Hong Kong-Macao Greater Bay Area (Greater Bay Area) has become an important part of China's national strategy, ushering the Pearl River Delta urban agglomeration into the "Greater Bay Area" era. In this context, the Qianhai Cooperation Zone will demonstrate best practices for deeper cooperation in the Greater Bay Area. A locus for international resources in service of the Chinese mainland with support from Hong Kong and Macau, the zone will feature a unique, forward-looking urban center in the world-renowned bay area, a novel core engine for collaborative innovation in the Greater Bay Area, a demonstrative pilot zone for future urban development, and a strategic pivot for the "Belt and Road" initiative.
In accordance with Planning of Qianhai New Urban Center, as one of the major innovation nuclei defined in the upper-level plan, Qianhai is well positioned to lead the development of the Greater Bay Area. On the one hand, it will actively coordinate and utilize S&T innovation resources from all around the world to build an internationalized and open regional innovation system and a novel cooperative community for the Greater Bay Area. On the other hand, as one of the dual centers of the city, Qianhai will promote axial coordinated development of urban functions, strengthening the regional service functions of modern service industries while further aggregating urban public service functions to create a new mixed-use urban center.
In accordance with the Specialized Planning for Walking and Cycling System of Qianhai Cooperation Zone, 19 cross-street parks, 9 skywalks and 15 sky footpaths are planned in Qianhai. The sky footpath system comprising cross-street parks, skywalks and sky corridors is connected to the pedestrian systems below grade. The goal is to create a humanized "slow-traffic" environment (for pedestrians, pedaled bikes, etc.), enhance the vitality of the street, develop a sustainable green traffic system and slow-traffic space with Qianhai characteristics.
To make Qianhai a unique new urban center of the Greater Bay Area, the Competition will follow a people-oriented design philosophy to create an attractive and pleasant public space system, and in doing so, enhance the well-being of people in order to make Qianhai a more appealing destination.
SCHEDULE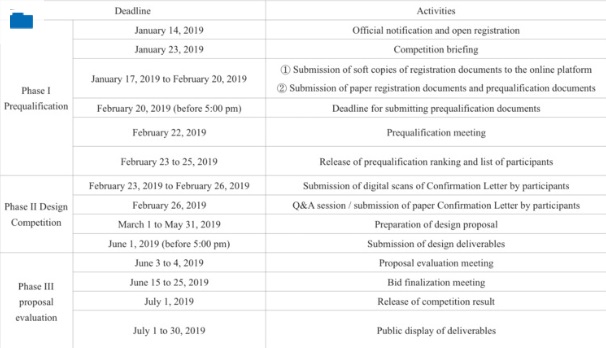 FEES
FREE
JURY
Host: Authority of Qianhai Shenzhen-Hong Kong Modern Service Industry Cooperation Zone of Shenzhen
Organizer: Shenzhen Qianhai Development & Investment Holding Co., Ltd.
Execution Agency: Shenzhen Rijie Ruixin Urban Planning and Design Consulting Co., Ltd.,Shenzhen Jianhengda Cost Engineering Consulting Co., Ltd.
DOWNLOAD
https://pan.baidu.com/s/1FqRBUNDjgQL-A5vyia0fSw?utm_medium=website&utm_source=archdaily.com
For more information about this competition, please contact us.